(The following is an expanded version of a column appearing on dailytarheel.com)
To anyone familiar with Coby White's game, they knew his ascension from "5-star freshman" to "starting point guard" was an inevitability. White's place in the starting lineup wasn't merely a matter of if, but when. On Friday in a final exhibition game against Mount Olive, head coach Roy Williams seemingly answered that question: He's ready now.
Freshmen guards under Roy Williams traditionally have to wait their turn, biding their time on the bench, serving as a reserve for — most likely — a full season before even sniffing the title of starting point guard.
The last freshman point guard to immediately step in as a starter was Marcus Paige in 2012, and his role was more so the result of necessity and not one of luxury. The Iowa native was thrust into a starting lineup that was missing 2012 Bob Cousy award winner Kendall Marshall, who declared for the draft in the offseason, leaving Paige as the only starting-caliber point guard on the roster.
Coach Williams is facing a similar predicament this year, with Joel Berry II now in the NBA and the only other lead guard remaining from last year's active roster being junior sparkplug Seventh Woods. Preseason workouts, practices and scrimmages all served the purpose of distinguishing who was ready to step in as the leader of this year's UNC squad that is deadset on avenging an early exit from the NCAA Tournament back in March.
Who should start: The 5-star freshman or the junior who's been a part of two different NCAA Tournament runs?
A pair of late August exhibitions in the Bahamas hinted that Williams was leaning towards sticking with the upperclassman Woods, who started both games. But as the preseason came to a close, a surprise Friday night start for Coby White signaled that Williams had a change of heart; and an opening night start for White against Wofford almost certainly showed that Williams' mind was changed completely.
What Williams saw from White against Mount Olive — 10 points, seven rebounds and six assists, four turnovers — and against Wofford — eight points, two rebounds, three assists, two turnovers — was nothing that the Hall of Fame coach hadn't seen from Goldsboro native before.
The 6-foot-5 combo guard dominated at the high school level with Greenfield School (Wilson, N.C.), finishing as the all-time leading scorer in North Carolina state history with 3,573 points at the high school level. In the summer of 2017, White led Team CP3 (N.C.) in scoring with 20.1 points per game over 21 games, making a name for himself in a league full of elite amateur prospects. This past summer during the FIBA U18 Americas championship, White lead Team USA in scoring (15.3 points per game) en route to a gold medal and placement on the all-tournament team.
Simply put, White knows how to score, and he knows how to score well. It's this special ability to get to the rim or pull up from deep that makes him the superior option over Seventh Woods, who, over two seasons riddled with injury and inconsistency, has yet to prove himself to be anything more than a backup guard.
To his credit, Woods has shown flashes of elite on-ball defensive potential, albeit in a very limited sample size (449 minutes over 60 games). With that said, Woods is able to effectively utilize his elite lateral quickness and fast reflexes when defending the point of attack, routinely hounding opposing ball handlers and disrupting pick-and-roll sets and isolation scenarios. Last season, Woods ranked in the 68th percentile when defending the pick-and-roll ball handler and in the 92nd percentile when defending isolations, according to Synergy Sports Tech.
The most impressive aspect of Woods' defense is his knack for poking the ball loose and forcing turnovers. According to Basketball-Reference, Woods' career steal rate of 3.32 ranks 9th among all ACC players since 2009, a mark that's impressive even when considering the limited sample.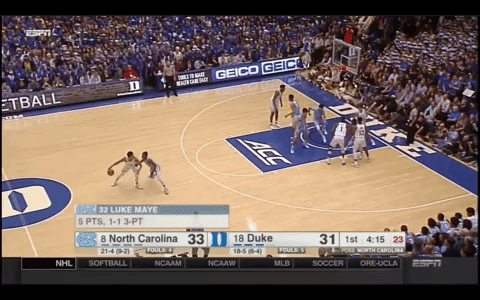 In both plays, Woods slides his feet along with the opposing ball handler, carefully mirroring the opponent without committing a foul. In each instance, Woods cuts off both players and slaps the ball away, effectively ending the opponents' possessions and initiating a fast break for the offense.
Forcing turnovers is an aspect of the game that Roy Williams desperately needs from his team: Last season the Tar Heels committed more turnovers than they forced, a statistic that Williams surely wants to change this season.
But, despite Woods' on-ball prowess, he offers very little else on both sides of the ball.
When defending spot-up opportunities, something the entire team was miserable at defending last season, Woods ranked in the 3rd percentile, allowing opponents to score 32 points on 24 possessions. All too often Woods would either find himself out of position, late to closeout a shooter or completely stuck under a screen, thus granting his opponent a wide-open three. (He is not alone in this, so I cannot scold him too much, but this is still a negative that hurts the team nonetheless.)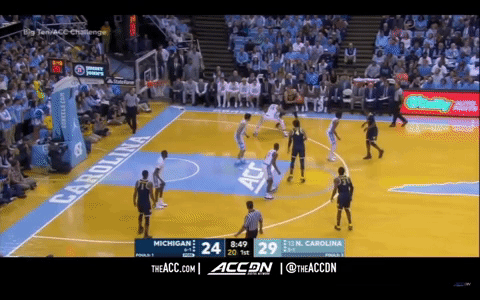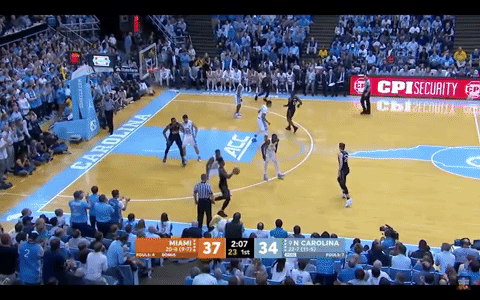 Offensively, he's even worse. The kindest way to describe his contributions is to simply say that, well, he doesn't contribute much at all. Without a viable jump shot, natural playmaking instincts or a strong handle, Woods often ends offensive possessions with a turnover (54 turnovers compared to 69 assists) or a missed shot (26-of-90 from the field throughout his career). On occasion, he shows flashes of playmaking ability in the pick-and-roll, but at the moment he's still inconsistent and limited as a playmaker. Woods ranked dead-last among UNC rotation players (excluding players who only play during garbage time) last season in both offensive rating (77.4) and offensive box plus/minus (-4.3), signaling that whenever he's on the court, he's doing far more harm than good on the offensive end.
And, although the various YouTube highlight reels of his high-flying dunks would lead one to believe that Woods is the ultimate threat in the open court, this simply isn't the case. Instead, he is surprisingly poor, going scoreless on 14 transition opportunities last year and scoring 25 points on 42 transition opportunities (4th percentile) his freshman season.
If his elite athleticism is only functional in specific circumstances, and his overall impact is negative, there is simply no reason to give him significant minutes, let alone a starting role. Although seniority likely helped Woods start during the initial preseason exhibitions, a lack of progression in the aforementioned areas of his game likely led to his inevitable usurpation.
Defensively, Coby White is not the player that Seventh Woods is. Despite being three inches taller (6-foot-5 versus 6-foot-2), White only offers modest length (6-foot-4), which limits his ability to corral opposing ball-handlers. Sporting average lateral quickness certainly doesn't help him on that end either, as he's routinely blown by whenever facing quicker guards. Without the requisite foot speed, White loses his man or commits a desperation foul when trying to close off drives.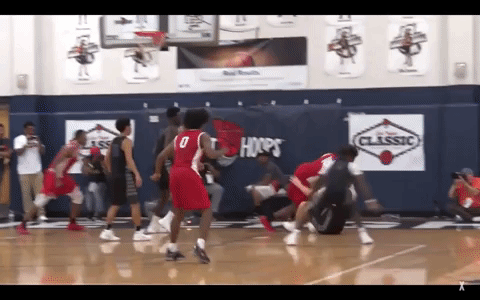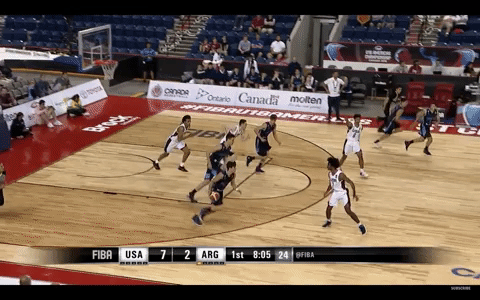 Although White isn't the defender that Woods is, his fiery competitive spirit helps him at least stay competent on that end, even with all of the physical and instinctual shortcomings.
Offensively, however, things are completely different.
Unlike Woods, White has pure shooting mechanics featuring a compact release point and fluid lower-body movement. His release is rather low, which can make his shot easier to block/contest, but his quick trigger is enough to launch shots over opposing guards. His footwork and shot prep is clean whether he's shooting off the catch or off the bounce, enabling him to find scoring opportunities by either creating space himself or coming off screens. Although he can be streaky at times, his shot mechanics seem like they should be able to translate to the college game and beyond.
Despite growing up as a wing without the responsibility to make plays for others, recent years have forced him to transform into a guard who can effectively run an offense. In a matter of months, White showed significant improvement between high school and FIBA when it came to maneuvering the pick-and-roll as both a scorer and passer.
Earlier in his prep career, White would almost exclusively look to score out of the pick-and-roll, settling for tough shots around the basket or ignoring the roll-man. Now, he patiently scans the floor, looking at most of his options before either delivering a nifty bounce pass to the roll-man or using a quick first-step to either attack the basket or rise up for a jumper.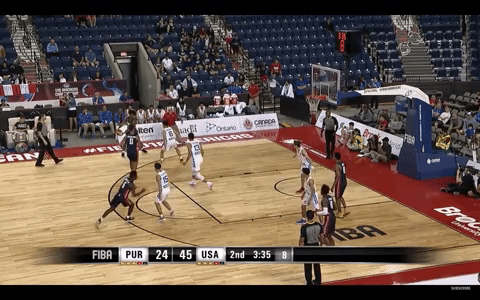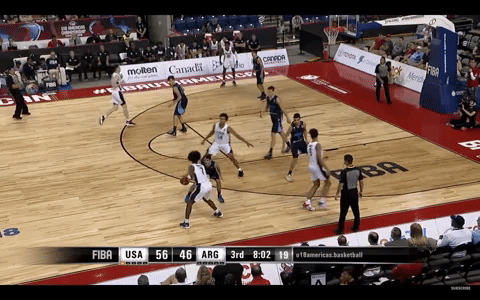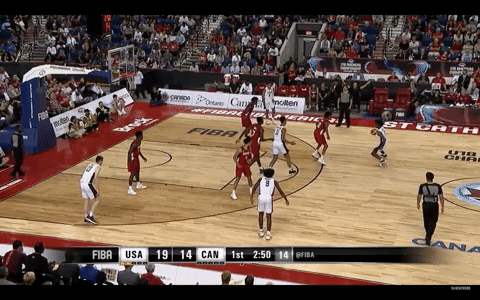 For the time being, White is still only capable of making simple reads as a passer, but on the rare occasion he shows an improving eye for finding his teammates, such as this crosscourt pass against Panama.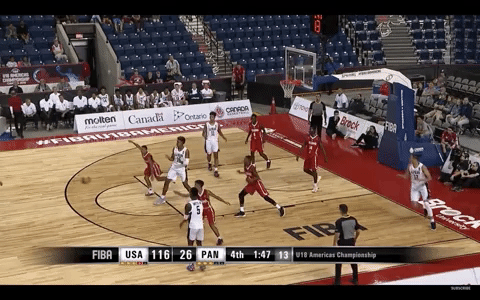 His teammate misses the shot, but that's a great find out of the drive. He draws in multiple defenders before delivering a left-handed crosscourt pass to the corner, an excellent read that — more times than not — results in a clean scoring opportunity for a teammate.
He's still prone to his fair share of mistakes on offense, though, since he's not a natural playmaker. Although it seems like the structure and coaching during the FIBA U18 Americas championship helped decrease his tendency to force the issue on offense, White still showed the occasional lapse of judgment where he'd either throw an errant pass or put his head down and drive into the trees without a plan of what to do next.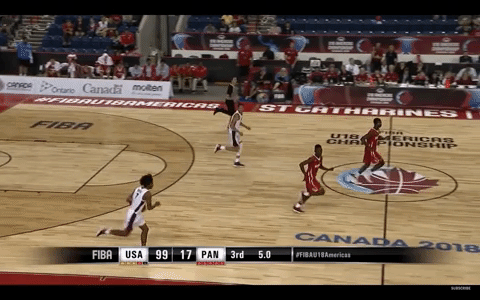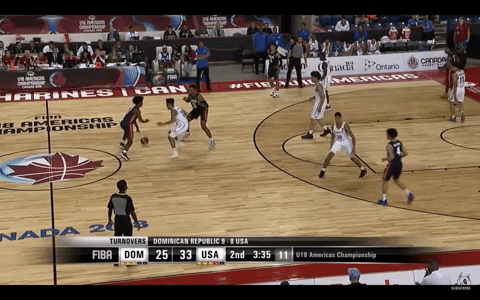 This tendency to go downhill at full-speed is both a positive and negative aspect of his game. Whenever he's going downhill, it's almost impossible to stop him from getting to the rim, as his excellent core strength and upper-body control enables him to alter his shot while in midair to shield the ball from outstretched arms. Even though he sports a narrow frame (185 pounds), White isn't afraid to barrel into opponents, and he'll assuredly draw several fouls per game due to his relentless attacking mentality.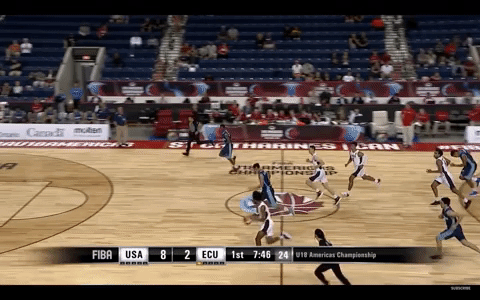 On a primary break against Ecuador, White slows down just enough to let a trailing defender catch up before using his body to shield his layup attempt from getting blocked, both making his shot and drawing a foul in the process.
Whenever he doesn't have a clear runway to the hoop, however, White can get blocked against taller, longer defenders. He's not an explosive leaper by any means, and typically prefers to finish under the rim using an assortment of layup packages. Despite this knack for hitting tough shots around the rim, he still struggles against rim protectors with notable length, which could present itself as an issue whenever UNC plays teams with elite size.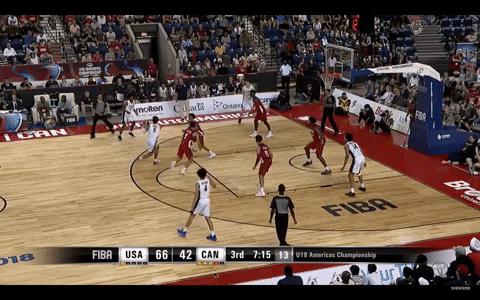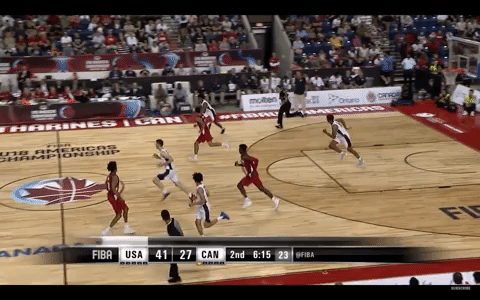 Even with the aforementioned holes in his game, Coby White has definitively established himself as the superior guard talent on this Carolina roster.
This analysis isn't flawless, of course. Statistical providers such as Synergy, Basketball-Reference and KenPom all have their limitations and flaws, as statistics can only tell part of the story. They're not the end-all-be-all, especially when examining a player whose attributes aren't static or unchanging. With that said, these sites provide a great deal of insight and, when combined with game film, help paint a clearer picture of how these players and teams perform.
None of this is set in stone: White could very well be pulled from the starting lineup following a string of subpar performances, an outcome that is certainly in the realm of possibilities considering that he's only a freshman. He could be supplanted by Seventh Woods in a matter of days or weeks, and could be relegated to manning the bench unit instead.
All of this is very fluid, but the observation stands: Coby White is damn good, and has shown the man who matters most — Roy Williams — that he deserves to start right away.